Part 25
July 2010, The Uinta Mountains, Utah
At Wanship, Utah the freeway curves so sharply below the escarpments of canyon walls that the speed limit drops to fifty miles per hour. We've left the original pioneer trail to deviate down Parley's Canyon, past Park City. Many pilots and flight attendants live in this alpine town, 2,500 feet above their domicile at Salt Lake International and away from the city with some of the worst air quality in the country. They live in condos and McMansions on golf courses that are still only a half hour from the airport thanks to I-80. Today, passing by the familiar turnoff at Kimball Junction to the old mining-town-turned-ski-resort-turned-posh-mountain-city-of-the-beautiful-people it all seems unreal: familiar but strange now, considering the journey we've made, and we are silent. The goal is in sight, and for the first time, it seems, we have the critical cognitive mass to reflect on the costs and the compensations. Who we are now having gone nearly the full 2,535 miles from Farmington, Maine to the place we recognize as and call home.
Unlike his mother, father and his Nana, Utah is the only home Derek has ever known, the home I left only to return to…returned for him. He was here, needing us. But how badly he needed us, we couldn't possibly know. We still don't know, in a way, and never really will. And I'm told by my family of birth and others that C. and I have done this wonderful thing, stepping in as we did to raise this boy. But it wasn't really C. and me. Derek located us. He knew what he needed and one day he just didn't go back to his Mom's. And what's more, one day when C. and I are not the right place for him to be, he has the radar and the good sense to move on. He made it happen then. And he'll make it happen at that once and future date when he says goodbye.
Derek is going to be okay. And perhaps it is not my relentless living of his life's minutiae, but the quality of earnestness he sees in me that is valuable to Derek. In the end we can only inspire our children through our own growth. And in that way we can teach beyond the level of our own ability. And that will have to be okay with me–Derek elevated beyond my own abilities. Smarter, stronger, more intuitive…kinder.
We tune back into the local classic rock station which will wane in and out as we descend, the peaks rising above, the sun a-blaze in the cold mountain air. U2 starts up, a concert version of one of their biggest hits of all time first appearing on their breakout album "The Joshua Tree." True to the album's title and to its iconic image of the strange cactus "tree" with weirdly upraised branches, like arms to the square, the songs featuring the high-wire tenor voice of Bono are an amalgamation of Celtic and American root music. Threading through it are the strains and beats of jazz and gospel—ur-text to rock and roll. In fact, this version of "I Still Haven't Found What I'm Looking For," recorded in Mexico City features a full-throated choir of gospel singers in full exultation.
This is the kind of Rock I can resonate with. It's more than an artifact wrung out of pop culture; it's the musical embodiment of human evolution—the stream, the river that is never the same from step in, to step out. It's what Lennon, perhaps, aspired to, and sometimes succeeded at, vetting and sifting through the detritus of every contemporary Western musical genre to create something new, like the surreal and wistful "Strawberry Fields," or the most restrained and thus effective protest song, "Working Class Hero." And it was all done unconsciously, bumping around in the dark through the "muff-diving" of Hamburg, to the break up of the Beatles and from the multi-genre experimentation with Yoko to the admittedly silly bed-ins. But it was fluid, malleable, and even at its worst, interesting. It helped keep the conversation going.
That is what the contemporary group U2 is doing, in my estimation. They are the natural successors of what's best in classic rock and roll. And this re-imagining of one of their greatest hits, honoring , this time, the punch-to-the-gut soul of Gospel and all of its musical shadings, is enough for me to believe in more than the genre, but the connections it makes with everything painful and beautiful about being alive. In 2010.
I have kissed honey lips
Felt the healing in her fingertips
It burned like fire
This burning desire
I have spoke with the tongue of angels
I have held the hand of a devil.
It was warm in the night.
I was cold as a stone
But I still haven't found what I'm looking for
That U2 can still elevate this anthem to a new realm by returning the song to its fundamental architecture, and re-imagining its glory enervates me. It gives me hope that our cultural forms have no end, only a new sensibility, a new vector to follow. Is this a love song or a bald command to come to Christ or just a nod that He in some way "broke the bonds and loosed the chains"? Bono may sing of "the Kingdom come" but he immediately undercuts any theological imperative with the new age notion that "all the colors will bleed into one." It seems to have taken a rock band from Ireland, not from the U.S., to deconstruct this country's religious obsession into transcendent spiritual longing. And U2 did so by brilliantly merging Celtic soul and Gospel.
Except for its dip down into the valley of the Great Salt Lake, Interstate Eighty follows the entire track of the first transcontinental railroad completed in 1868 at a place called Promontory Point, north of the Lake. The joining marked the end of the pioneer era and the end of the isolation of an intermountain "Zion" and the larger fantasies of my own people that they would become their own sovereign state—first literally and later spiritually. You see, the way west was paved with good intentions of promise, adventure and greed, sometimes marinated in religious feeling, but it is was also paved quite literally in freeway, rail, and, finally, "air lines." And all of us traveled those roads and are traveling them still, the connections real and psychic, both the hard shoulder with mile markers and the cultural web that we are all suspended in. And along the way we figure out what we're made of. And maybe why, in some big way, we might be here. Derek has had his late and troubled start. So did Grandpa Butler, who was so laden between age seven and twenty-two with "rheumatics," arthritis and neuromuscular troubles that sound a lot like polio, that he wondered "about my future existence and I often thought what the Lord wanted of such a being as me upon the earth." And yet Grandpa thrived, weirdly growing another two and a half inches between age twenty-two and twenty-seven and growing "verry stout indeed." Stranger things have happened, I suppose. And even if the man-boy never finds his way into a single space I recognize as purposeful, I have a kind of secular faith that life is somehow naturally filled with compensations. I have religious faith that my spontaneous hand to his head as he leaves for school each day is a kind of father's blessing that he will find the trail ahead of him safe, but more importantly one with high adventure and promise.
And what of Interstate 80, our companion of the past five days? Its western terminus in San Francisco was supposed to extend through Golden Gate Park to the Pacific Ocean near the famous Ocean Beach area. But public opposition was hot, so the second longest interstate really ends/begins at U.S. 101, a few miles shorter than originally planned, at the series of U.S. 101 exits near Van Ness Avenue. Some, however, still argue that it actually ends at the Embarcadero exit.
And where does I-80 terminate in the East? Overhead signage shows rather decidedly that it ends at the junction of Interstate 95 in Ridgefield Park, New Jersey. But some argue that it really ends at the Hudson River. After all, the exit numbering on I-95 north of I-80 approximates the same numbering of I-80 if we think of it as extending to the river.
Everything seems in dispute these days.
One thing I do know for sure, I-80 does not go near Boston, as I thought when I lived in New England nearly thirty years ago. Back then it was admittedly a comfort to think that, connected to America's birthplace by miles of asphalt through the lush countryside of Connecticut, New York and Pennsylvania, the drainages east to the Atlantic and west to Mark Twain's Mississippi was my mountain-desert home. That skirting the Great Lakes in Ohio and Illinois, the hickory of Indiana and bisecting the plains of Iowa and Nebraska was that thread that belted the country's bread basket, its industrial center and its western coast through seeming impossible terrain. That it was and is my toe-hold to the world beyond my view and the belief that fades with age and the changing rise-upon-mountain rise that I knew what was there—at least in its broad, stereotypical contours, and therefore who I might be. In my broad, stereotypical contours. But here it is. Less and more than I thought.
At home, Jiggs is there, wagging his tail. The cats still everywhere you want to be in the little house we dance in. C. is back to the business of making our home, thanking Kate for her dog-sitting. Sifting through the mail and the phone messages on the old answering machine. And my Derek, the man-boy, heads downstairs into his "cave" we call it to recall the life he left nearly three weeks ago and to imagine his life to come. I miss him already, and he still lives with us.
THE END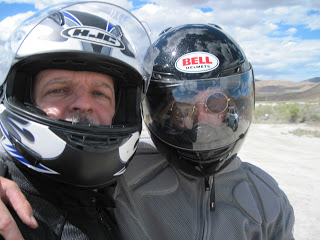 August 2010, Great Salt Lake, Interstate 80)