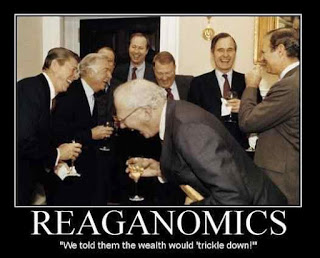 Back through the convenience store, I enter the Restaurant.  The place is a abuzz with locals sitting at the counter, at tables and at perimeter booths one of which, apparently, is ours, dwarfing Cheryl who is sitting with a plastic menu the size of a motorcycle windshield.  This is definitely an "experience" as we are fond of saying in the United States.  Not for the locals out on a Thursday night for a pie and company, but for the tired travelers who have stumbled in.  Over my own windshield, I notice the angled wooden beams holding up the vaulted ceiling.  On each is stenciled a different quote—from Socrates to Will Rogers.  They look like quotes that have been pulled out of a quote book.  Fair enough.  At least they aren't scriptures from the New Testament.
            The waitress arrives.  A woman whose plastic name tag announces "Dot."  I feel the need to imbibe.  I ask if they have a wine list.  She looks at me wryly.  Then smiles and says, a little too loudly, "Wine?  If there was wine do I think I'd be standing here?"  Because of her smile, I am inclined to think she is saying that if there were wine here at the Emlenton Plaza Restaurant, she'd be in the back drinking herself into a stupor instead of waiting on dog-tired feet for customers to decide between baked or mashed potatoes.  I smile with understanding about over liquor laws.  After all, I live in Utah.  But then, after we've ordered, it occurs to me as I look deeper into this place now glowing against the PA darkness outside, that perhaps she meant it literally.  "If we served wine, I wouldn't be working here because I don't drink and I don't think anyone else should."  That is a certainly a sentiment I am not stupid to.
Redux:  I grew up in Utah.
            But there are other tells that this is a place that I should not feel comfortable in.  Perhaps it is the all-white crowd of jeaned and booted men and bouffant-haired women who eye everyone, including each other, with a kind of sterility.  Perhaps it is the glass-paneled lamps on shelves next to the cashiers, each panel featuring the etched or painted image of a U.S. Marine in full-dress, sword upraised.  Perhaps it is the T-shirts for sale emblazed with "Wise Men Still Seek Him" in a biblical font at 200 point.
            The man-boy looks miserable sitting across from us, his hair still damp…but in place.  But I have come to learn that he is also the kind of boy who believes he doesn't deserve any better than what he gets, whatever he is getting.  So he suffers silently and drifts away in his head to a place where I'm not allowed to go.  We've talked about it before, this place he goes.  And the longer he lives with us the more he is able to recall some of those occasions—exhibit A through Z—that aggregated for me, congealing into this modus operandi.
            When he gets like this I feel compelled to rush in.  I know I probably shouldn't, but I do anyway, determined that he articulate something for me.  Probably so that I feel less afraid of what's going on for him.
"How do you like this place?"  I ask.  He looks around.
"It's okay I guess."
"You going to order the usual?"
"What?"
"You know.  The usual–bacon cheeseburger?"  He looks vacantly at the menu.
"She's coming back in a minute for our order.  Are you ready?"  His Nana lowers her menu, looks at me.  The man-boy flips the menu over to see what's on the back.  He's already taken his sweet time in the john looking in the mirror, and he's not going to be ready to order when Dot returns, which she does at that moment.
"Had a chance to look things over?" she says clicking her pen and taking an inventory of what's on the table:  salt, pepper, ketchup and a wire holder with sugar and sweetner packets.
"Are you ready?  I ask him.
"I'll have the Caesar salad, with shrimp," says Cheryl.  She is asked about sides and salad dressings, the latter of which she declines, preferring wedges of lemon.  She looks at me.
            I say, "Go ahead, Joe" for that is the man-boy's name.  Short for Josiah.
            He doesn't say anything.  He is stuck somewhere in one of the lower levels of his hell and isn't having much success clawing his way up for air.
            "Do you need a little more time," she says.  She could be here all night.
            "Is that all right?" he says, and looks at me.
            "Sure," I say, good-naturedly.  For Dot's sake. Don't want her to think I'm one of these red-necks in the place.  Someone who disrespects kids to hide their own insecurity.  But, in fact, it's not okay.  This happens all the time.  He takes off for the bathroom for ten minutes while we wait, then he can't decide what he wants to eat. Nana gives me a warning look, which I resent.  What does she know about raising a boy?  Never mind that I've never raised a child—boy or girl–and that this child is not one I've raised, even though I, not his father, was the one who made it to the ultrasound of his mother, to see the two-dimensional wedge of protoplasm that was to become our Joe.  Our man-boy.
            But I defer to her.  I am now fuming at the menu that announces boldly that the Plaza is the winner of the regional pie contest, five years running.
I recommend the pot roast, and stab at it on his menu.  He looks at me annoyed.  Even though it is I who seek to take his emotional temperature, to understand where he is, the man-boy figures me out before I do him.  He knows I'm on a train.  It's one of the compensations, I suppose, of his traumatic past.  He can sense what's going on in others.  It's a survival technique.  But what it means to me in this moment is that he's winning the game.
When Dot returns with "Ready?" a.k.a. "Get your shit together guys, I got things to do," I order pot roast.  "What kind of lettuce is in your dinner salad?"  She looks at me like she's about to say something like "green lettuce, you moron" in and around the chewing of her gum.  "Good old iceberg style.  That okay?  You want Thousand Island with that, or ranch?"  I order oil and vinegar which she writes down on her pad without saying anything.
"How about you young man?" There is a pause.  The man-boy is pushing it, I think.  Seeing how far he can go.  "I'll have the double bacon cheeseburger," he says, and hands Dot his menu.  He orders a root beer, and we're off.  I sigh.
On the television hanging from the ceiling over the counter, Glenn Beck is holding court.  I have only one thing to say about Brother Beck, the demagogue of our convulsing age:  fuck him.  Okay, maybe that's two things. In fact, I have never watched a single segment of his on television, nor listened to an entire program on the radio.  All I know is that my parents in Provo, Utah watch him religiously, and that their anxiety levels over the state of humanity, the earth and the horsemen of the apocalypse are off the fucking charts.  Visit after visit, I am regaled by the latest racism of the nation's first black president, the latest attack on the family and the latest conspiracy involving socialists.
            But. I am not going to say anything more about Brother Beck, a man who converted to the religion of my childhood because, he said at one point, he wanted to have sex with the girl he was dating, and she insisted on it.  (Of course, the first time I got married was because as a 25 year-old sort-of-virgin, I wanted to have sex too and couldn't, without tipping over a very large apple cart, without first getting married…but that was entirely different.)
            Fortunately, Brother Beck's show is captioned, and we can ignore him over our dinner with no wine by simply averting our eyes.
            The meal is passable and passed over by the three of us with little conversation.  After he eats half of his hamburger, the man-boy excuses himself to go back to the bathroom.  I wait for Cheryl to say something to me.  Something about not picking on him.  About, "why are you so angry?  You look like you're about to jump out of your skin."  Instead, she decides to excuse herself to go browse the consumable and totchkes—key chains, shot glasses and posters of American Eagles wrapped in Old Glory.  I am left to collect the bill.  And in that split second of Cheryl's leaving and my signaling Dot, I am struck with a foreboding sensibility.  In my determination to counter what I feel is the lunatic fears of civilization's collapse—of apocalypse—I think perhaps that I have also discounted the reality and realities of the losses to be experienced as the country and to some extent the world transforms itself into an, as yet, unknown place.
            I think this first began to take shape—from feeling to abstraction–three nights earlier, Christmas night after all the gifts had been opened, the girls gone to bed and my brother-in-law Pete and I have retired to watching the John Wayne version of "True Grit" on cable in the middle of the Maine woods.  But we're not really watching it.  We're drinking whiskey and, speaking of trains, Pete gets on his, his strong Rhode Island accent feathering his words.  His voice getting louder as the booze sets in him.
            Pete who retired after 30+ years as a teacher in the Massachusetts public school system, has a perspective nevertheless drawn from the trenches of the working class bloke.  Though now turned so-called middle class, he and his wife, Cheryl's sister, are teetering on the brink of a slap-down by the powers that be—the super rich, the government, the banks and other financial institutions and corrupt politicians.
            "They don't get it," he says.  "They don't understand that you can't fuck the American middle class without starting a revolution."  Pete is more than rankled.  He's built more houses than I can count, including his second home in Arizona with his own hands.  Clambered through as a shop teacher for the boys who can't manage to pass in that academic way; served his country in the army reserve.  Raised three of his own boys; managed a rest home—knocking the wind out of at least three consecutive jobs all the while smoking like a chimney.  When we took him and his wife Diane to Paris one year and Barcelona another, the wiry guy with the full shock of black hair that's just recently gone gray, walked the streets with that kind of sprung athletic look, almost like he was walking on his toes.
I envy his full head of hair the most.
            But now he's pissed.  Worked hard to retire early and, among other things, has been told that the money he put into his Social Security is being "off-set" because at times during his frenetic work life, he worked double duty for the Bay State.  His conclusions on the state of the American state are not rooted in the popular, ever alternating demonizing/lionizing rhetoric of the day, but are surprising to me in that they are freshly informed by careful analysis and scorching pragmatism.  He never cared that he was going to have to work like a dog.  He only cares that the government in cahoots with big business way-laid people like him and somehow convinced half of the nation that the super-rich deserve to be treated by another standard.
            "This trickle down shit never worked.  Ever since Reagan they've been selling us this shit and hoodwinked the lot of us.  It's nuts.  It's fucking nuts.  And if they don't think that there won't be riots in the streets before this is over, they're dreaming.  America isn't going to escape revolution just because it's America."  He finishes his drink, his thick glasses making his doe-like eyes bulge in the dim light of the candles and tree lights that Diane has so carefully arranged—but that her husband made happen.  The can-do guy from Warren, Rhode Island turned resident of Riverside to retiree in backwoods Maine and Arizona.  A guy who likes to hit the casinos now and play black jack after felling fifty trees on his thirty acres outside Farmington, Maine.
            "And you want to know something else?" he continues.  Usually when I hear rants about the government and the country it's red-state-styled bullshit about how the constitution is a static document that the "liberals" have incrementally disassembled and that the proofs of all of this are the moral corruption of welfare moms and abortionists. But Pete is different.  "You know what else?" he repeats.  You can't tell me that the opposition to Obama isn't just based out of good old fashioned racism.  They hate that guy because he's black first and everything else follows."
            Here, Here.
            The staggering part of all of this train wreck is that the Republicanists have abandoned honest-to-god conservative paradigm—much needed, I might add, in a two-party system such as ours–for the knuckleheads of the tea partiers.  They abandoned the party of William S. Buckley and Dwight Eisenhower and convinced the lot of us on a steady diet of lunatic consumerism and reality shows that it is un-American to hold the super-rich in this country to the same standard as people like Pete.
People like me, I might add.  Okay.  Maybe not people like me.  After all, I had it good.  For twenty years I flew around the world, literally.  Three days on/Four days off before the towers came down and the industry "reorganized."  And now?  Now, God willing, I'll collect a pension in a few years.  And right now I have the privilege of at least having a fighting chance of getting on a B-757 for free and flying over 2,000 miles for one week of vacation over Christmas.  Not bad for an English major.
            A fighting chance most of the time.  With 10,000 flights cancelled, we didn't have a prayer getting out of Boston.  And now we are in Pennsylvania in a rented Corolla, with three to four days ahead of us still.