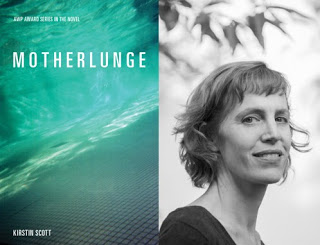 "MOTHERLUNGE IS A FULL-FRONTAL assault on every dappled, dimpled and doily-enhanced image we've had of both women and mothers. Think Sandy or Orem, Utah—scrubbed clean with culturally-defined markers of motherhood, riven with Victorian charms that are neither really Victorian or charming. Then think the opposite.That is Scott's literary world. That the story is also hysterically funny even as it makes you squirm, is a tribute to the writing—an exquisite mix of the scalpel scraping along the physical curves of the female form and the cumulative, and ultimately sublime effects of pushing out another human onto a steel table: scrape and plop." Read the full review
Motherlunge by Kirstin Scott
New Issues Poetry & Prose (January 8, 2013)
248 pages
$11.10
Winner of the 2011 AWP Prize for Novel  and the Utah Original Writing Competition, Kirsten Scott's Motherlunge has also been short-listed for the Flaherty-Dunnan prize for debut novel from the Center for Fiction. Scott is a graduate of the University of Utah Creative Writing Program. Her short stories have appeared in Alaska Quarterly Review, Hayden's Ferry Review, Sonora Review, Western Humanities Review, PANK,  and
elsewhere. She works as a medical writer and lives in Salt Lake City
with her family. She is currently working on a novel about a
gynecologist named Ajax.