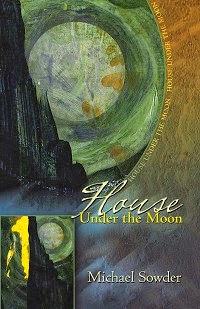 This review originally appeared in 15 Bytes Magazine. "House Under the Moon" was a finalist for the 2013 15 Bytes Book Awards in poetry. I liked this book partly because I've met Michael personally in Logan where he and his family live, and partly because he's a practitioner of Buddhist meditation, something I've been dabbling in for a couple of years. "Dabbling" is perhaps the wrong word for it. It's become a discipline for me, this Zen thing, and one that I would recommend. My introduction to meditation was through the writings of Vietnamese monk Thich Nhat Hanh whose mindfulness work seems to have penetrated the West to reach many. like me, who have never had an entree into Eastern thought and spirituality. Not sure when I can call myself a "Buddhist," if ever, but I have to say that of late mindfulness/meditation has been transformative for me. And this book of poems sort of helped me understand that, calling yourself this or that, Buddhist or not, is the least important thing to worry about.
"IN HIS 2012 COLLECTION House Under the Moon, it's clear that
poet Michael Sowder has suffered for his art, as spiritual seekers do.
The first section ("Homecoming") starts with a kind of post mortem
of the life previous—another marriage, a father whose marginalia in a
book sends the mind reeling in memory and loss, perhaps old systems of
thinking, feeling and believing. The direction is linear, forward in
direction, away from something and home to a new hearth that in the
second half (titled "Housekeeping") becomes eastern, circular and
curiously joyful." read the full review
House Under the Moon
by Michael Sowder
Truman State University Press
(2012) 85 pages
Michael Sowder is a poet, writer, and professor at Utah State
University in Logan where he lives at the foot of the Bear River
Mountains with his wife, writer Jennifer Sinor, and their boys, Aidan
and Kellen. His first book of poetry, The Empty Boat, won the 2004 T.S. Eliot Award and his chapbook, A Calendar of Crows,
won the New Michigan Press Award. His nonfiction, which explores themes
of wilderness, poetrics , and spirituality, appears in Shambhala Sun, The Wasatch Journal, and several essay collections.
Raised in an Irish Catholic family, Michael Sowder was trained as a
meditation teacher in a tantric yoga tradition in the 1970s and
subsequently practiced meditation in Buddhist and Christian mystical
traditions. He is the founder of the Amrita Sangha for Integral
Spirituality, an organization that explores and teaches the practices of
the world's contemplative traditions.