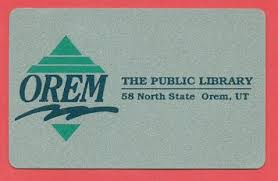 January 20, 2016
7:00 PM
Storytelling Wing
Orem Public Library
58 N. State St.
Orem, UT
Last year as part of the Utah Humanities Book Festival, I attended a reading by Oregon-based author Brian Doyle with my friends Stephen Carter and Larry Menlove. Doyle is amazing: funny, earnest, and what I refer to as one with a "keening" quality to his public readings.
He's also very Catholic in the best, most Irish sense of that word. At any rate, later, I was thrilled to have him blurb my book, which he graciously did. Afterwards, he told my editor that I now owed him a beer.  
Dream House on Golan Drive is set in Utah County, so I'm excited to be reading on its home turf.
Stop in to see a real, antique Edsel, inspiration for one of the book's chapters. Weather permitting.