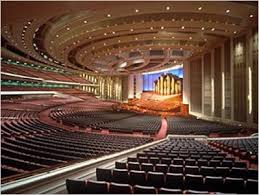 In 2002, the Winter Olympics in Salt Lake City was an opportunity for the LDS Church to present itself to the world. The theatrical extravaganza titled "Light of the World" was staged downtown at the new indoor Conference Center which seats a whopping 22,000.
This review which appeared in Dialogue, attempts to illuminate how the corporate church, famous for its global proselyting efforts, chose to see itself on the world stage.
 "REFASHIONED BEYOND RECOGNITION, Salt Lake City hosted the Winter Games in February 2002. While the world partied Olympically—Budweisers in hand, whooping it up in chaotic street fetes—Latter-day Saints found haven in the
LDS Conference Center. With its open door and rich collection of cultural artifacts, the center functions not just as an auditorium, but arguably as the Latter-day Saints' first cathedral, with side 'chapels' designed for devotional and historical art and architecture, and deeply symbolic fixtures, from doorknobs and seat upholstery to windows and waterfalls. The new building is not only an ecclesiastical seat, as in traditional cathedrals, but also a multi-use common where Mormon and non-Mormon can potentially converse with the highest values of the Mormon community."
Download the pdf to read the full review.