Your wedding ceremony is the signature of your love
---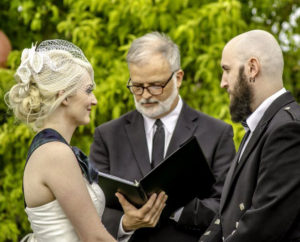 I will officiate at your wedding with grace, comfort and humor to illuminate the story that you have become together. Your ceremony can be as religious, secular, poetic or profoundly simple as you want it to be. The secret to a meaningful and beautiful ceremony is the inclusion of everyone at the event that honors the two of you: your family and friends, along with the institution of marriage which I am pleased to facilitate.
A good officiant guides both the couple marrying and the guests before and during the ceremony through the welcome, the address, the readings, the Expression of Intent, the vows, the rings, the pronouncement and the kiss. These are standard elements of a wedding ceremony, but, except for the Expression of Intent, which is legally mandated, all are optional and content-flexible. I'm there to help make it happen in the most meaningful way possible whether it's in the great outdoors, in a chapel, garden or living room.
For booking, click here.