A modest collection of books for your consideration
---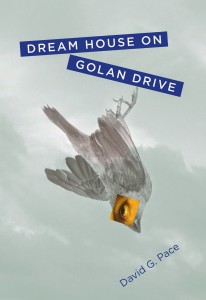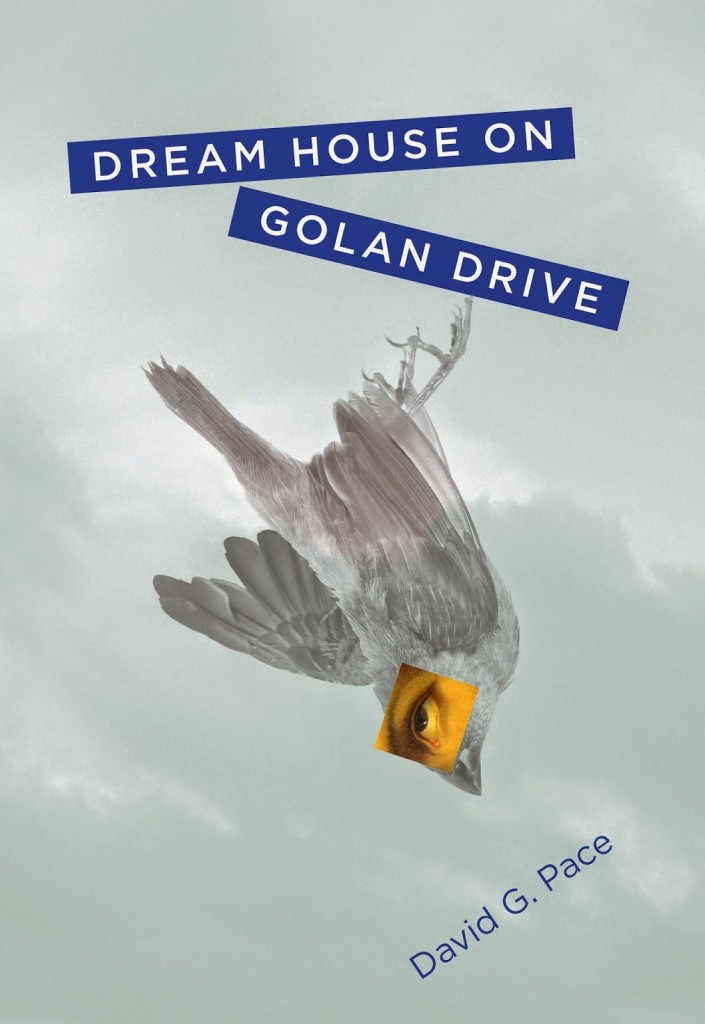 Synopsis: It is the year 1972, and Riley Hartley finds that he, his family, community, and his faith are entirely indistinguishable from each other. He is eleven. A young woman named Lucy claims God has revealed to her that she is to live with Riley's family. Her quirks are strangely disarming, her relentless questioning of their lives incendiary and sometimes comical. Her way of taking religious practice to its logical conclusion leaves a strong impact on her hosts and propels Riley outside his observable universe and toward a trajectory of self discovery.
Set in Provo and New York City during the seventies and eighties, the story encapsulates the normal expectations of a Mormon experience and turns them on their head. The style, too, is innovative in how it employs "Zed," one of the apocryphal Three Nephites who with another immortal figure, the Wandering Jew of post-biblical legend, engage regularly in light-hearted banter and running commentary, animating the story and leavening the heartache with humor and tenderness.
---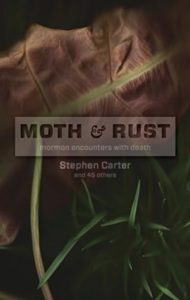 Moth & Rust: Mormon Encounters with Death (contributor)
Paperback | Documentary
255 pp. | $20.35
978-1560852650
Buy through 
Amazon.com
In Mormonism we are sometimes seemingly casual about death: it's a veil or a mission call to the spirit world. But our actual encounters with the reality of death inevitably change us in ways that are difficult to articulate.
In this collection, Mormon writers wrestle with mortality and its aftermath. A family sings a hesitant rendition of Happy Birthday to a grief-stricken mother who buried who toddler just a few hours earlier; an agnostic son decides he's Mormon enough to arrange a funeral for his believing father.
Some essays use death as a means to understand faith. One author imagines a world where Heavenly Mother visits her children in the form of their female ancestors, appearing to her descendants in times of grief or pain.
Others address practicalities: how do you protect your children from death while still allowing them to experience the world; how do you get through one more nausea-ridden day of cancer treatment?
Still others delve into death's questions: does the overwhelming suffering that occurs in the animal kingdom have a function in the "plan of happiness"?
Sometimes humorous, sometimes heartbreaking, always thought-provoking, these personal essays, poems, and stories may never be heard at a Mormon funeral. But they probably should be.
Stephen Carter (contributor and editor) is the director of publications and magazine editor for the Sunstone Education Foundation. He is the author of Mormonism for Beginners and a collection of award-winning personal essays on spirituality and contemporary Mormonism, What of the Night? His graphic novel, IPlates (with Jett Atwood) won the 2014 AML award for comics. Additional contributors include Phyllis Barber, Richard Dutcher, Angela Hallstrom, Jack Harrell, David G. Pace, Steven L. Peck, Eric Samuelsen, Bengt Washburn, and thirty-six others.
---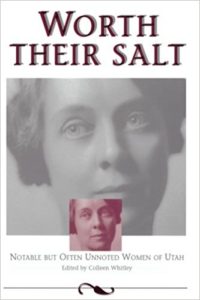 Worth Their Salt: Notable but Often Unnoted Women of Utah
Paperback | Biographical
280 pp. | $28.95
978-0-87421-206-8
BUY NOW
This collection of 18 biographies portrays women of diverse cultural and social backgrounds who have made important but often unrecognized contributions to Utah's story, past and present. Included are such diverse figures as Mormon midwife Patty Sessions, African American pioneer Jane Manning James, actress Maude Adams, prominent author and historian Helen Zeese Papanikolas, and speech and theater professor Maud May Babcock profiled here by David G. Pace and pictured on the book's cover.
Colleen K. Whitley (Editor) is the author of five books on Utah history and numerous articles, poems, and reviews. She taught for 20 years at Brigham Young University in the English and Honors Departments and serves on the editorial board of Utah Historical Quarterly.