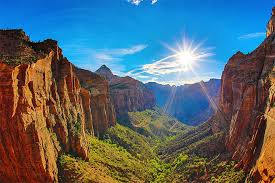 Zion National Park is one of the most stunning and one of the most visited National Parks in the American Southwest. Zarts has invited me to read from and sign copies of Dream House on Golan Drive on Monday, March 21, 2016. I hope you can join me as it's not far from St. George, Kanab and other populated areas of the Mormon Corridor . . . even Las Vegas.
And even if you're not Mormon, I hope you'll come as Dream House is really about what someone from a tight-knit religious community does when he finally figures out he doesn't fit in. Jewish, protestant, Catholic or Muslim . . . I really think you'll be able to identify with the main character. And . . . (how's the sales pitch thus far?), if you've grown up "gentile" (meaning "non-Mormon," offensive as that word is) in Utah or the Mountain West, you'll be able to "get" much of what the book is saying about the civilizing force that religion has played in this region.
I'm especially grateful to Zarts for promoting literature in the St. George / Zions Park area. Culturally, there's a lot going on here, including Emmy Award Winning Red Rock Rondo's Zion Canyon Song Cycle, Hal Cannon (also of Red Rock Rondo) with his new desert music group 3HatTrio, which recently partnered with Repertory Dance Theatre where I work full-time in Salt Lake City on a new work. (Ever hear of western folk music tinged with reggae? That's 3HatTrio).
It's also home to Teresa Jordan (Hals' significant other) whose most recent book A Year of Living Dangerously (Weekends Off), is a recent winner of the 2015 Utah Book Award. The collection of essays, many of which stem from her blog of the same title, is a wonderful meditation on virtue as it applies (or doesn't) to contemporary life . . . a life worth examining.
Hope to see you in red rock country on March 21!
7:00 PM
Canyon Community Center
Springdale, UT
(Turn on Lion Blvd., go past Town Hall)