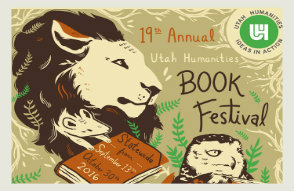 Pioneer Book and the Utah Humanities Book Festival present a reading and book signing in Provo of "Dream House on Golan Drive."
I've given one reading in Provo. It was last winter at the Provo Public Library at Academy Square where I was flattered to have Library Director Gene Nelson show up along with so many of my friends and family.
I'm thrilled to be part of an independent bookstore on Center Street of the city I grew up in, and which is the setting for this novel.
If you're unfamiliar with the Utah Humanities Book Festival, it is Utah's signature literary event, currently celebrating its 19th year. As a program officer at Utah Humanities, I was the Director of the festival for two years in 2010 and 2011 and was able to help it make the statewide festival that it is today.
Check out all of the amazing authors, including one my favorites Jonathan Lethem, who will be in the Beehive State in September/October this year.
And please join us Oct. 6, 2016 at 5:30 pm at Pioneer Book, 450 West Center Street in Provo.