Editor & "Ghost" Writer for Hire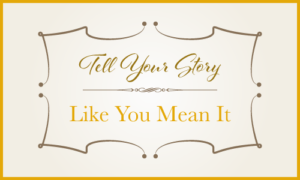 ---
I ask the right questions to tease out the story that you have inside that's trying to get out. It might be the story of your life (memoir/personal history), somebody else's story (fiction, narrative nonfiction), the story of a product (taglines, marketing copy, branding) or the story of a project (proposals, reports).
I pick up new vocabularies quickly and transform them into something that really sings. Are you struggling with dialogue in your fiction, narrative non-fiction or plays? As a former playwright and professional stage critic for 10 years, I'm exceptional at dialogue. I bring all of these skills to bear to inspire, illuminate and motivate you to greater achievement and clarity of thought whether it's as an editor of your finished manuscript, developmental editing of a new idea, or as your personal "ghost writer."
Looking for a first or new job? I can help you with your resume and cover letter.
Want to learn the basics of public speaking or take your speech writing and delivery to the next level? With a masters in communication and a former professor of public speaking at Westminster College, I can help you understand the theory behind it and coach you in best practices.
Everyone has a story to tell. Everyone has a voice that is as unique and valuable as a thumb print. How will that story materialize in language? I can help.
You can book me on Thumbtack where you can find out about my rates, read my reviews from past clients and read answers to frequently asked questions about editing and "ghost writing."
https://www.thumbtack.com/ut/salt-lake-city/writers/editing-writing-services-dave-s-editing-and-writing-services
---